Search our collection and log-in to your account

---
Click on link below to view calendar
---
---
Champlain Library Opens for No-Contact Pickup
Click here for more information.
---
---
---
Library Notice UPDATE
To ensure the health of the public, the Champlain Township Public Library is closed until further notice. This decision has been made based on information provided by the Eastern Ontario Health Unit (EOHU) with regards to COVID-19 (coronavirus).
We will continue to monitor the situation and provide updates as necessary.
Patrons can continue to return library materials in the outside drop box.
The library will waive any late fees during this time.
All programs and events are cancelled.
If you have any questions please contact us at library@bc-cl.ca and we will reply as quickly as possible. Thank you for your understanding.
Click here to access our COVID-19 information page
---
---
We encourage our patrons to take advantage of our online electronic resources for eBooks and eAudiobooks by clicking on the Libby logo below.
In need of a temporary library card to borrow books online?
Residents of Champlain Township and East Hawkesbury can email their information (name, address, phone and email) to the Champlain Library at library@bc-cl.ca and obtain a temporary library card. The temporary card will be valid only until June 30, 2020, at which time the patron would need to bring in proof of address to validate their card.
---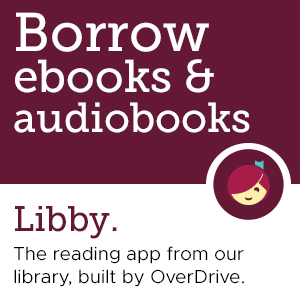 The Libby app is the easiest way to get started with digital books and audiobooks from the Champlain Library.
Simply click on the Libby logo to the left and install the Libby app on your Android, IOS (iPhone/ipad/ipod touch) or Windows 10 device. Or visit libbyapp.com in your Chrome, Firefox, Safari or Edge browser. In Libby, follow the prompts to find your library and sign in with a valid library card. Browse your library's collection and borrow a title.
HAPPY READING!!
---
New to OverDrive? We'll help you borrow ebooks, audiobooks, and more from your library. Click on the logo above for help.
---
Read 20 Books in 2020
New Suggested Topic Every Month!
Reading reduces stress, improves memory, knowledge and concentration.
---
May : Author Introduction
Read a book written by an author who you've never read anything by. Bonus if its been on your TBR for more than a year.