Search our collection and log-in to your account
---
---
---
---
For safety reasons Champlain Township Council has decided to close the Champlain Library to the public until further notice. We will continue to offer our excellent curbside pick-up service Monday to Friday from 1 to 5 pm. as well as all our virtual programming. We look forward to serving you all!
---
---
---
---
---
Ontario Library Week takes place on October 18th to 24th and the library is offering a chance for patrons to win a basket of goodies by taking out library materials.  Every time a patron takes out a library item during this week, their name will be entered into the draw.  Help celebrate Ontario Library Week with the Champlain Library!
---

---
---
October is Mental Health Awareness Month
(click here for more information)
---
Large Print Pool books are now available.
Enter LPP in the search bar of the catalogue to see what books are available.
---
---
What's all the buzz about?
Click here for book recommendations!
---
---
We encourage our patrons to take advantage of our online electronic resources for eBooks and eAudiobooks by clicking on the Libby logo below.
In need of a temporary library card to borrow books online?
Residents of Champlain Township and East Hawkesbury can email their information (name, address, phone and email) with proof of residence to the Champlain Library at library@bc-cl.ca and obtain a library card.
---
---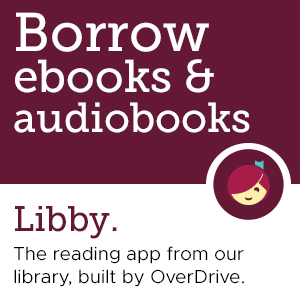 The Libby app is the easiest way to get started with digital books and audiobooks from the Champlain Library.
Simply click on the Libby logo to the left and install the Libby app on your Android, IOS (iPhone/ipad/ipod touch) or Windows 10 device. In Libby, follow the prompts to find your library and sign in with a valid library card. Browse your library's collection and borrow a title.
---
---
New to OverDrive? We'll help you borrow ebooks, audiobooks, and more from your library. Click on the logo above for help.
---