The following books are available on: "Always Available" eBooks and eAudiobooks on Overdrive.
---
From your computer, or using the Libby app, it's easy to browse through titles and find something to read with no line and no waiting!
---
---
Available June 22 through July 15: Seldom does a book have the impact of Michelle Alexander's The New Jim Crow. Since it was first published in 2010, it has been cited in judicial decisions and has been adopted in campus-wide and community-wide reads; it helped inspire the creation of the Marshall Project and the new $100 million Art for Justice Fund; it has been the winner of numerous prizes, including the prestigious NAACP Image Award; and it has spent nearly 250 weeks on the New York Times bestseller list.
Most important of all, it has spawned a whole generation of criminal justice reform activists and organizations motivated by Michelle Alexander's unforgettable argument that "we have not ended racial caste in America; we have merely redesigned it." As the Birmingham News proclaimed, it is "undoubtedly the most important book published in this century about the U.S."
Now, ten years after it was first published, The New Press is proud to issue a tenth-anniversary edition with a new preface by Michelle Alexander that discusses the impact the book has had and the state of the criminal justice reform movement today.
---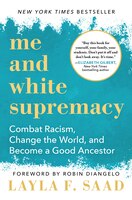 Available June 22 through July 12: Based on the viral Instagram challenge that captivated participants worldwide, Me and White Supremacy takes readers on a 28-day journey of how to dismantle the privilege within themselves so that they can stop (often unconsciously) inflicting damage on people of color, and in turn, help other white people do better, too. When Layla Saad began an Instagram challenge called #meandwhitesupremacy, she never predicted it would spread as widely as it did. She encouraged people to own up and share their racist behaviors, big and small. She was looking for truth, and she got it. Thousands of people participated in the challenge, and nearly 100,000 people downloaded the Me and White Supremacy Workbook. Updated and expanded from the original workbook, Me and White Supremacy, takes the work deeper by adding more historical and cultural contexts, sharing moving stories and anecdotes, and including expanded definitions, examples, and further resources. Awareness leads to action, and action leads to change. The numbers show that readers are ready to do this work-let's give it to them.
---
Available June 22 through July 19th: Sixteen-year-old Starr Carter moves between two worlds: the poor neighborhood where she lives and the fancy suburban prep school she attends. The uneasy balance between these worlds is shattered when Starr witnesses the fatal shooting of her childhood best friend Khalil at the hands of a police officer. Khalil was unarmed. Soon afterward, his death is a national headline. Some are calling him a thug, maybe even a drug dealer and a gangbanger. Protesters are taking to the streets in Khalil's name. Some cops and the local drug lord try to intimidate Starr and her family. What everyone wants to know is: what really went down that night? And the only person alive who can answer that is Starr. But what Starr does—or does not—say could upend her community. It could also endanger her life.